AWAKE & ALIVE
Mindful Living with Cancer Retreats
Cancer can be one of the greatest challenges in life; it can be a stressful and overwhelming for everyone it touches. Awake & Alive Mindful Living with Cancer Retreats are designed to help you to navigate the emotional, psychological, and spiritual dimensions of the journey with cancer with more ease, courage and acceptance.
We bring together powerful researched-based healing modalities that have a significant effect on physical health, emotional stability and improved resilience to cope with the stress of serious illness. You will be introduced to the transformative healing practices of mindfulness and stress reduction; the ancient discipline of Qigong; and the expressive arts as a vehicle for deeper exploration and self-reflection. You will learn tools that help transform fear and anxiety. Both body and soul will be rejuvenated with delicious, locally sourced organic food; acres of unspoiled peaceful forest; and the gift of the nurturing, supportive community we create together.
You and your partner or caregiver are warmly invited to gift yourself with this unique opportunity for deep reflection, healing and transformation. You will leave with practical tools and living practices that empower you to live well in the midst of change and uncertainty.
---
AWAKE & ALIVE
Mindful Living with Cancer Retreat
April 23-27, 2018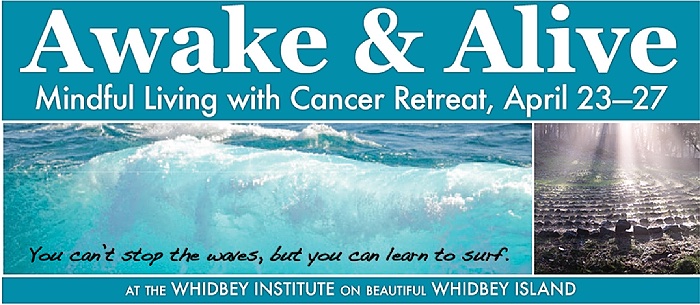 Join us for this popular annual retreat at the beautiful
Whidbey Institure, WA

REGISTER HERE

Past participants said:
"This retreat really helps one deal with the pain and uncertainty of living with cancer. Helps one live a 'healed' life, regardless of diagnosis and prognosis." –Betsy D.

"Erica is very experienced, gifted, skilful, knowledgeable and very gentle –I've learned so much about mindfulness and living as well as we can – in the time that we have." Jacqui J.

Limited space - register now!


---
PAST EVENTS
Please note: These events have already occurred they are only posted here for your interest!
---
2017
MINDFUL LIVING EVENTS
---
Awake & Alive
Mindful Living with Cancer
Retreats in the U.K.


Saturday 20th May - Sunday, 21st May
Jamyang Buddhist Centre
The Old Courthouse
43 Renfrew Rd.
 London SE11 4NA
email info@mindfullivingretreats.co.uk
 
---
Wednesday, 31st May- Friday June 2nd
The Letchworth Centre for Healthy Living
Rosehill Hospital,
Letchworth,
Hertfordshire SG6 3NA
email

healthyliving@letchworthcentre.org


 

---
Facilitators
Erica Rayner-Horn M.A., L.M.H.C.
——is a mindfulness-based psychotherapist and an instructor of the 8-week Mindfulness-Based Stress Reduction program.
Learn more online
. She leads workshops and retreats on mindfulness, meditation and stress reduction, and has taught for CancerLifeline and local hospitals and presented at Fred Hutch Cancer Research Center and the University of Washington.
Erica is passionate about teaching mindfulness as an effective way to cope better and to live well through the challenging experience of cancer. With than 30 years of meditation training and practice, she is the author of the CD "Finding Tranquility-Guided Mindfulness Meditations for Stressful Times," and an upcoming book on cancer and mindfulness.
Micheal Connors Co-Facilitator BSc, PGCE, Adv Dip Couns and Psych, Dip Sup, ML will enhance the mindfulness and stress management focus of this retreat with his extensive experience as an holistic therapist, nature guide and meditation facilitator. He has worked across the fields of education, health and wellbeing for over 25 years and recently worked for 10 years at the Bristol Cancer Help Centre which became Penny Brohn Cancer Care. He is currently supporting people living with long term conditions through projects in nature.  He is co founder, with his partner, of Human Nature and The Natural Academy, http://www.humanwildnature.com, http://www.naturalacademy.org and has written a number of articles and a short book, 'Pocket Full of Soul'. These are on the subject of the Human-Nature connection. Micheal is passionate about helping people find the resources they need, to live as well as they can with the challenges of a health crisis.
"Tell me, what is it you plan to do with your one wild and precious life?"
Mary Oliver
Seattle Mindfulness Center   6306 Phinney Ave N   Seattle, WA 98103
erica@mindful-therapy.net (206) 973-7371